SFPD Crisis Intervention Team (CIT)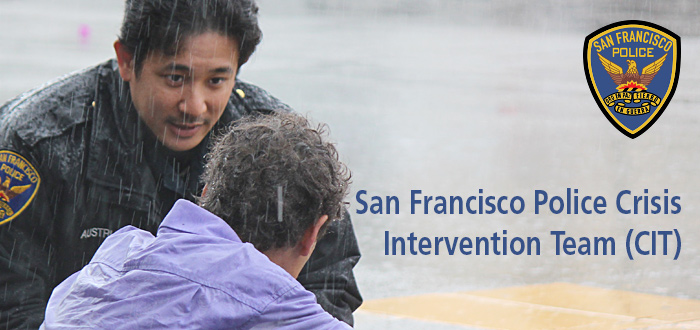 Fourth Annual CIT Awards Ceremony
The CIT Awards Ceremony were held on Thursday, June 21, 2018 to recognize SFPD Police Officers and Emergency Management Dispatchers who demonstrate excellence in the use of CIT principles and skills.
What is the Crisis Intervention Team (CIT)?
The Crisis Intervention Team (CIT) is comprised of community members, mental health advocates, health service providers, and police officers working together to provide cutting edge training for law enforcement officers. The goal of CIT is to instruct officers how to effectively manage behavioral crisis situations in the field. The training is designed to teach officers how to manage individuals in behavioral crisis using de-escalation techniques and time, distance, and cover for the safety of all individuals. CIT training provides an additional set of tools that officers can utilize to de-escalate situations and obtain a safe and positive outcome for the officer and consumer. This is accomplished by teaching officers the inner workings of a crisis, including the feelings and emotions (or lack thereof) an individual experiences during a crisis situation.
CIT curriculum addresses the following topics: Verbal De-escalation Scenarios;  Mental Health Disorders; Medical Issues; Psychotropic Drugs and Side Effects; Juvenile Mental Health; Geriatric Mental Health; Family Perspective by the National Alliance on Mental Illness; Suicide and Suicide Intervention; Dual Diagnosis; Vicarious Trauma; Self-Care; Conflict Resolution; Suicide by Cop; PTSD Signs and Symptoms; Veteran Encounters and Interactions; Homeless Outreach; Department Policy and Procedures; Intellectual Disabilities; Spectrum Disorders; and Substance Use and Mental Health. CIT is supported through the leadership of the Police Commission, SFPD Command Staff, The Mayor's Office on Disability, SF District Attorney's Office, SF Public Defender's Office, Office of Citizen Complaints, SF Mental Health Board, mental health advocates, health service providers and community members.
Protocols for CIT call responses are covered in Department Bulletin 14-143 Response by Crisis Intervention Trained Officers, (See Attached) and San Francisco Division of Emergency Communications Training Bulletins, TB11-031 and TB14-013
Numbers of SFPD officers who have received CIT training?
Total currently employed SFPD members trained from November 2011 through April 2018: 872
Breakdown of members:
Commanders = 2
Captains = 6
Lieutenants = 29
Sergeants = 193
Officers = 651
Station Personnel = 604
Support Units = 293
Total Sworn Personnel = 881
Public Service Aides (Airport) = 14
Public Service Aides/Non-Sworn (Field Operations Bureau) = 2
Number of active patrol officers who have received CIT training?
Sworn Personnel = 881
Non-Sworn = 16
In addition, members from outside agencies also took part in SFPD CIT training:
BART PD = 22
SFPD Communications (Dispatch) = 12
SF DA's Office = 2
SF Park Rangers = 40
San Diego PD = 1
Documents associated with CIT
Department Bulletins
Use of Service and Support Animals by Persons with Disabilities
SFPD-DepartmentBulletin-11-204.pdf
Operation Outreach Protocol for Processing Homeless Property "Bag & Tag"
SFPD-DepartmentBulletin-12-085.pdf
Reporting and Investigating Suspected Elder and Dependent Adult Abuse DB
SFPD-DepartmentBulletin-12-165.pdf
Response to Mental Health Calls with Armed Suspects
SFPD-DepartmentBulletin-13-120.pdf
Procedure for Booking "CONREP" Arrestees
SFPD-DepartmentBulletin-15-043.pdf
Avoiding the "Lawful but Awful" Use of Force 
SFPD-DepartmentBulletin-15-106.pdf
Transporting Persons Who Use Mobility Devices
SFPD-DepartmentBulletin-15-146.pdf
General Orders
Crisis Intervention Team (CIT) Response to Person in Crisis Calls for Service
SFPD-DGO-5.21-CIT.pdf
Psychological Evaluation of Adults
SFPD-DGO-6.14.pdf
Psychological Evaluation of Juveniles
SFPD-DGO-7.02.pdf
Critical Incident Evaluation and Notification
SFPD-DGO-8.01.pdf
Hostage and Barricaded Suspect Incidents
SFPD-DGO-8.02.pdf
Senate Bill
Senate Bill No. 11 Peace Officer Training: Mental Health
SFPD-SenateBill11-100315.pdf
Lt Mario Molina
Crisis Intervention Team Coordinator
Email: [email protected]